Las Vegas Personal Injury Attorneys
Small Nevada Law Firm. Big Results.

Injured in an Accident in Las Vegas?
You may be entitled to compensation to pay for your medical bills, lost wages, pain and suffering, and other losses if your injuries were caused by the negligence of someone else. The personal injury attorneys at the George Bochanis Injury Law Offices have successfully represented countless victims in Las Vegas, Henderson, and the surrounding communities when motor vehicle accidents, slips and falls, or workplace accidents cause them to suffer.
You need experienced legal representation after a personal injury in Nevada. Call the George Bochanis Injury Law Offices for a free, no-obligation case evaluation. (702) 388-2005
Our Accident Lawyers Handle a Wide Range of Personal Injury Cases
At the George Bochanis Injury Law Offices, our legal team consists of:
What Is a Personal Injury in Las Vegas?
The term "personal injury" is used to describe physical or emotional harm suffered by a victim. When serious injuries are caused by the negligence, recklessness, or intentional actions of someone else, a personal injury claim or lawsuit may arise.
Who Causes Personal Injuries in Nevada?
Personal injury attorneys in Las Vegas frequently handle cases involving victims who were injured by negligent drivers, property owners, business managers, dangerous products manufacturers, negligent owners of vicious dogs, and parties who contribute to unsafe conditions at work.
Who is the plaintiff when a personal injury lawsuit is filed?
The plaintiff in a personal injury lawsuit is the victim who suffered the injury. In some situations, such as multi-vehicle accidents, numerous people are injured. When this happens, there may be a number of injury claims or lawsuits that stem from a single incident.
Who are the defendants in a personal injury case?
In a Las Vegas personal injury case, the defendants are the entities who caused harm to the victim. In some cases, the cause of the victim's injury is obvious, and the responsible party is clear. Oftentimes, however, there are various factors that contribute to an accident, making multiple parties liable for damages.
Contributory Negligence Doctrine
When there is more than one contributing factor that causes someone to get hurt, claims or lawsuits may be filed against some or all of the entities involved. Since Nevada follows the contributory negligence doctrine, liability for medical bills, lost wages, and other losses is spread proportionately according to each party's percentage of fault. If the claimant is found to be more at fault than the defendants, he or she is barred from recovering damages.
Elements of a Personal Injury Case
Duty: the defendant(s) must have owed you a duty of care
Breach of Duty: the defendant(s) breached that duty
Cause in Fact: but for the defendant's breach of his or her duty of care, you would not have suffered injuries
Proximate Cause: the defendant's negligence or recklessness was the proximate cause of the injury
Damages: you suffered some type of loss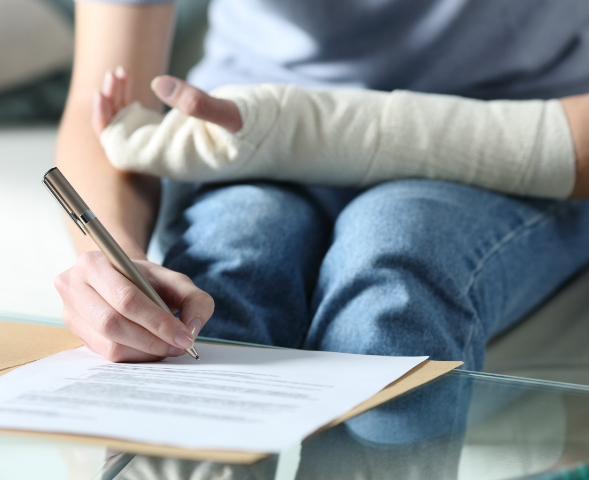 "From the beginning, George told me to take care of my physical health, and that he would take care of the rest. He stayed true to his word. I never had to wonder what was going on with my case, as he kept me informed about all developments. His predictions and advice were spot-on. He, and his team, are among the most respected in the Las Vegas area. It was great being represented by someone who garnered such effusive praise from colleagues. Most importantly, he negotiated a fair settlement, that I walked away, feeling very happy about. He is as tough and precise as they come."
How Is a Personal Injury Case Resolved?
Although alternative dispute resolution procedures like mediation and arbitration are sometimes used to resolve accident cases, more personal injury cases in Las Vegas are resolved in one of two ways.
After a victim files a personal injury claim against the at-fault party and his or her insurance company, settlement negotiations generally begin fairly quickly. In most cases, insurance companies try to minimize payouts by claiming the victim was at fault or that he or she wasn't injured severely. They often offer settlement amounts that are nowhere near what is needed to cover the victim's losses. In some cases, insurance companies and large corporations even deny claims.
When a victim hires a personal injury lawyer to handle the claim, he or she presents evidence to the insurance company and negotiates with the company representatives to maximize the amount the victim receives. If an amount can be agreed upon that fairly compensates the victim for his or her losses, a settlement agreement is signed, payment arrangements are made, and the case is resolved.
If the personal injury attorney and the insurance company cannot reach an agreement, the case is brought before a jury in court. Negotiations to reach a settlement agreement generally continue while the court case proceeds. The accident lawyer and the other side's attorneys will present the evidence to the jury, and after both sides have presented their sides of the case, the jury will make a decision about whether the defendant is liable for damages and if so, how much should be paid to the victim.
When personal injury cases proceed to trial and a jury verdict is reached, it is not uncommon for the defendants to file an appeal if they are determined to be liable for damages and feel that the decision was incorrect, or the award was too high.
FAQs About Personal Injury Cases in Las Vegas
Victims in Las Vegas have two years from the date of the accident to file a personal injury lawsuit in most cases. If your injury was caused by a defective product, however, you have four years to take legal action.
It depends. While some Nevada personal injury cases resolve without formal litigation in just a few weeks, complicated cases that involve litigation can take months or years to resolve. Most injury cases fall somewhere in the middle, and settlements are reached within a few months.
To ensure that all victims have access to legal representation, most personal injury attorneys in Las Vegas accept cases on a contingency fee basis. Victims don't usually pay attorneys fees unless the case is won.