Las Vegas Car Accident Lawyer
Small Nevada Law Firm. Big Results.

In the blink of an eye and without warning, car accidents happen. As a result of a wreck, you or your passengers may suffer serious injuries, or death. In addition to dealing with the physical and emotional effects of your injuries, you may also face significant financial challenges brought on by your medical care needs and inability to work while recovering. Car accident lawyer George T. Bochanis can help.
Our Las Vegas car accident attorneys have more than three decades of experience helping victims move forward after crashes. If you were hurt in a car accident, an injury attorney at George Bochanis Injury Law Offices will help ensure that you recover compensation to pay for your medical care, replace your lost wages, and help make up for the pain, suffering, and other losses you've been forced to endure.
Call the car accident lawyers at George Bochanis Injury Law Offices for a free consultation. 702-388-2005. There is NO FEE unless we win your case.
Do You Need a Las Vegas Car Accident Attorney?
Working with a Las Vegas auto accident attorney after a car crash can mean the difference between recovering the compensation you need to pay for your losses, and settling for significantly less than you deserve. Insurance companies often place their own bottom lines above the needs and interests of accident victims. Sometimes, they even employ unethical tactics to get our of paying claims. Skilled auto accident lawyer George Bochanis knows how to counter their unscrupulous ways. He will negotiate with the insurance adjuster, protecting your rights and pursuing full and fair damages on your behalf.
At George Bochanis Injury Law Offices, we will not let you be pushed into accepting a settlement that is less than you need and deserve. As a dedicated personal injury attorney, George prepares each case as if it will go to trial, gathering the necessary evidence to prove fault and the value of your economic and non-economic losses.
Life-Changing Injuries Caused by Las Vegas Car Accidents
Severe car accident injuries can be life-changing for victims and their families. In many cases, people who were injured in crashes are left facing years of ongoing medical treatments, multiple surgeries, and countless trips back and forth to the doctor. Sometimes, victims need in-home nursing care and life-sustaining medical equipment for the rest of their lives. They often must take expensive prescription medications for pain and symptom management, and even make modifications to their homes and vehicles. 
With mountains of medical bills filling up the mailbox and the inability to return to work, financial burdens can quickly cause victims to become overwhelmed. You shouldn't have to shoulder the cost of a car accident that was caused by someone else. Filing an injury claim can ensure the negligent driver is held liable, and your financial stress is eased. 
When you hire our injury attorneys to handle your car accident case, we will: 
Listen to your side of the story

Gather evidence to demonstrate fault

Work with medical experts and accident investigators 

Collect your medical records to show the severity of your injuries

Negotiate with the other driver's insurance company on your behalf

Answer your questions and address your concerns

Present your case in court if necessary

Help maximize your car accident settlement 

While you aren't legally required to hire a car accident lawyer to handle your case, doing so can significantly improve your chance of success. Studies show that victims who handle their injury cases without legal representation often settle out of court for significantly less than their cases are worth.  
What Causes Car Accidents in Las Vegas?
Motor vehicle collisions are an all too common occurrence on the streets of Las Vegas. The city's police department reported 19,891 accidents in 2022, many of which resulted in serious injuries or death. Sometimes, car wrecks happen because of circumstances outside the drivers' control. More often, however, crashes occur due to negligent or reckless actions on the part of motorists, or others with whom they share the road. 
The most common reasons crashes occur in Las Vegas include:
Various dangerous driving behaviors fall under the umbrella of reckless driving, and commonly contribute to motor vehicle collisions in Las Vegas. Such behaviors may include speeding, failing to yield, distracted driving, or drowsy driving, as well as tailgating and road rage. Engaging in reckless driving puts dangerous drivers themselves at risk, as well as their passengers and those with whom they share the road.
Speeding involves traveling faster than the posted speed limits, or what is safe given the current road and weather conditions. Driving too fast may seem a small thing. However, at high rates of speed, drivers may more easily lose control of their cars, or lack the time and space needed to safely stop or avoid obstacles. Consequently, they may strike other vehicles or objects, potentially causing serious injuries or death. In 2021, speeding was the leading cause of fatal accidents across the state of Nevada.
Motorists, pedestrians, bicyclists, and others who share the roads expect and anticipate that those around them will follow the traffic rules and signals. Failing to yield at a stop sign or traffic light, or to pedestrians or others, can lead to serious crashes. Drivers may proceed, expecting the road to be clear, and collide with drivers who neglected to yield. 
Drivers face seemingly endless distractions on the road, from cell phones and in-vehicle infotainment systems to passengers. A distraction is any activity or behavior that takes your attention off the task of driving, eyes from the road, or hands from the wheel. For example, common distractions include checking or sending text messages, changing the radio station, taking a drink or eating, or talking to passengers or using hands-free calling. When distracted, drivers may not see hazards, changes in the traffic conditions, or other such issues that may affect the safe operation of their vehicles.
While most understand the dangers posed by falling asleep at the wheel, many people fail to recognize the risk of driving while overly tired or fatigued. Drowsy driving is a common cause of auto accidents in Las Vegas and elsewhere, however. 
According to the National Security Council, drowsy drivers are three times more likely to crash than those who are not overly tired or fatigued. Tiredness or fatigue can cause effects that significantly impair drivers' ability to safely operate their vehicles. For instance, drowsiness can cause slowed reaction times, decreased attentiveness, and affected decision-making.
Driving Under the Influence (DUI)
Each day, drunk driving crashes kill about 37 people across the U.S., and injure many more. Despite knowledge of the risks, improved public transportation options, and other aims to reduce the number of alcohol-related accidents, people continue to get behind the wheel after drinking or using recreational marijuana. As a result, it remains a leading cause of car accidents occurring across the state each year.
Some of the effects that drinking alcohol may have, which can cause driving impairments, include:
Blurred or double vision

Judgment control problems

Difficulty distinguishing colors on traffic signals, signs, and markings

Reduced reaction times

Decreased coordination
A common cause of auto accidents in Las Vegas, not resulting from drivers' actions, are vehicle defects. Issues with the design, as well as shortcuts or other flaws in the manufacturing process, can cause malfunctions to occur that affect the safe operation of cars and trucks. Often happening without warning, these types of defects include those affecting the acceleration, steering, braking, or vehicle safety systems. Some of the most commonly defective vehicle parts include fuel systems, steering systems, tires, braking systems, electrical systems, airbags, and seatbelts. As a result of vehicle defects, motorists may lose control of their vehicles, which can result in them striking other vehicles or objects. 
In car accident cases involving vehicle defects, you may seek to hold the vehicle maker, part manufacturer, or even the dealership liable for your resulting injuries. You should not have to take on the financial burden of injuries you suffer due to these parties putting a dangerous product on the road.
If you suffered bodily injury in an auto accident caused by the negligent or reckless acts of another, call the George Bochanis Injury Law Offices to discuss your rights and options. 702-388-2005.
Common Car Accident Injuries in Las Vegas
More than 11,000 car crashes resulting in injuries occurred throughout Las Vegas in 2022. Common car accident injuries can range from minor to severe, or even fatal, depending on the impact of the collision.
Some of the most common injuries our auto accident attorneys see include:
Occurring due to jolts, blows, or penetrating injuries that cause damage to the spinal cord, these injuries can have serious and lifelong implications. Those who suffer such trauma in car accidents often need emergency medical treatment, as well as ongoing care to manage their symptoms and any secondary conditions. Spinal cord injuries often cause effects such as:
Pain

Spasms

Exaggerated reflex activities

Altered or loss of sensation

Loss of some or all movement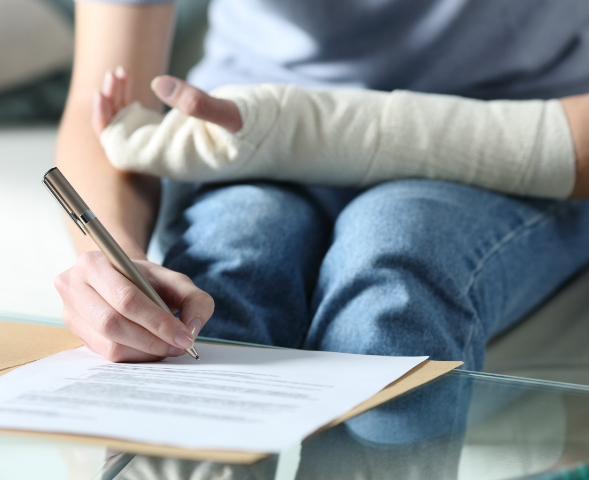 Coming into contact with the vehicle interior, or with objects or other people inside the cars, can cause the brain to suffer bruising, bleeding, torn tissues, or other physical damage. Traumatic brain injuries can result in short- and long-term complications. As a result of these complications, car accident victims with TBIs often need extensive medical treatment and, in some cases, may not be able to resume activities they once performed or enjoyed. 
Burns are often disfiguring and painful for car accident victims. They may result from fires caused by the crashes, as well as from contact with hot water or steam, hot metal, or chemical loads. Burns can cause deep tissue damage, which may affect crash victims' daily lives, including their ability to work and provide for themselves and their families.
Car accidents commonly result in broken bones, including ribs and limbs. Often, fractures heal with appropriate setting and time. However, other broken bones can be so severe that they have prolonged or ongoing effects. If you suffer a bone fracture in a motor vehicle crash, you may need costly medical care, as well as time off work to recover, which can make an already challenging situation all the more difficult.
Soft tissue injuries, including those to the tendons, muscles, nerves, and blood vessels, are among the most common to result from automobile accidents. For example, these may include sprains, strains, whiplash, pinched nerves, and torn tendons or ligaments.
"I have been dealing with George T. Bochanis for the past year and a half regarding a case & I have got to say each and every associate that worked on my case went above and beyond to ensure that this worked on my behalf. Special s/o to Alex in the law office, he definitely went above and beyond the call of duty for me. Thank you isn't enough. I appreciate all of you!"
We welcome the opportunity to review your case with you, and help you determine the best course forward to recover fair compensation.
How Much Is Your Las Vegas Car Accident Case Worth?
Insurance companies in Las Vegas often employ unscrupulous tactics to coerce victims into accepting injury settlements that are not nearly enough to cover medical bills or lost wages, let alone other losses. To determine the value of your case and ensure your settlement is maximized, our lawyers consider a number of factors. 
The cause of your car accident
Our injury lawyers use pictures, videos, crash investigators, and other evidence to reveal the factors that may have contributed to your accident.
Who caused the car accident?
All parties who contributed to your car accident can be held liable for damages. Identifying all liable parties can increase your compensation in a personal injury claim.
What insurance coverage is available?
Car accident liability insurance coverages vary significantly. If you were injured in an Uber or Lyft accident, for example, up to $1 Million may be recovered. 
Were you partially at fault for the accident?
If you were less than 51% at fault for the accident, you can recover compensation from the other parties. Your award will be reduced to compensate for the role you played in causing the crash. 
Were you severely injured in the car accident?
If you need multiple surgeries, in-home medical treatment, or your pain is significant, you may be entitled to a larger award.
What Damages Can You Recover in Las Vegas Car Accident Cases?
Even a seemingly minor Las Vegas car crash can have serious effects, and lead to substantial damages for those involved. Through an insurance claim or personal injury case, auto accident injury victims may recover compensation for their injury-associated losses. We will help you obtain fair damages for the economic and non-economic losses you suffer as a result of injuries caused by a motor vehicle crash.
Our law firm was founded on the belief that accident victims should not have to bear the financial burdens brought on by the actions of others. Since opening our doors in 1985, we have worked to help our clients obtain the damages they deserve, so they can focus on healing and moving forward. We will carefully evaluate your losses, both tangible and intangible, to help you understand what you are owed. 
Common Recoverable Losses in Personal Injury Claims
Damages in personal injury cases seek to make accident victims as close to financially whole as possible. The recoverable damages in motor vehicle accident cases will include economic and non-economic losses, including:
Lost wages

Lost future earning capacity

Loss of enjoyment 

Pain and suffering
Valuing the economic losses resulting from accident injuries is generally straightforward. We will help you gather the necessary documentation, such as medical invoices and banking statements, to calculate their value. Once we have established your economic losses, our experienced car accident attorney will address the non-economic losses you have suffered, helping you understand what to expect and what you are due.
What Should You Do After a Las Vegas Auto Accident?
The first thing you should do after a car accident in Las Vegas, NV, is to assess yourself and your passengers for injuries. If you are able, you may also check in with the other motorist involved to see if he or she, or any passengers in his or her vehicle, suffered harm. Should anyone have suffered serious injuries, call 911 for immediate medical assistance.
While it is important not to leave the accident scene to avoid potential criminal consequences, you should avoid leaving your vehicle in traffic if you are able to move it.
After checking everyone for injuries, you should report automobile accidents in Las Vegas to local law enforcement. You do not have to have a police report when filing an auto insurance claim or personal injury lawsuit. However, it can provide valuable evidence, as it will generally include the responding law enforcement officer's interpretation of the accounts provided and what occurred.
The insurance company may try to twist things you say and do after a car accident to limit their cost or avoid paying you. Avoid making statements that can be taken as admissions of guilt, including what you tell the authorities when reporting the crash. Even apologizing for the circumstances can be used against you later.
Exchanging information with the other driver is vital following a car wreck. You will want to get his or her name, phone number, driver's license number, and insurance information. Nevada is an at-fault state, meaning you will file a car accident claim with the responsible driver's insurance company to recover the maximum compensation for your losses.
If you are able, you should also gather evidence at the automobile accident scene that may be useful in the event you have to prove fault. To this end, you may take pictures or video of the scene where the accident happened, any visible injuries, and the vehicles involved. Additionally, you should ask for the names and contact information of any witnesses to the wreck. 
FAQs About Car Accidents in Las Vegas
If you are the victim of a hit-and-run accident in Las Vegas, you may be able to file an accident claim against your own uninsured motorist policy to recover the maximum compensation for your losses. If you get hit by a driver who leaves the scene, you should report the crash to law enforcement right away. Having a police accident report may prove helpful in filing an uninsured motorist claim, and the sooner you notify the authorities, the greater the chances of them catching the at-fault driver.
Distracted driving, operating motor vehicles while impaired by drugs or alcohol, and drowsy driving in the city that never sleeps are a few reasons why car accidents are common in Las Vegas. 
You should go to the ER immediately following a crash if your car accident injuries are severe. Otherwise, you should be evaluated by a doctor as soon as possible to rule out injuries that may not be obvious right away. Having medical records that show you sought treatment right away, as well as the type and severity of injuries you suffered, may help prove your case to insurance adjusters or before the court.
What Type of Personal Injury Lawyer Do You Need?
Our personal injury law firm provides legal representation to people who suffer injuries caused by someone else's negligence. We are: