In some states, self-driving cars are already on the road, and causing accidents, but autonomous 18-wheelers could be first to become mainstream. The technology for self-driving trucks already exists, but not everyone is supportive of these high-tech trucks.
(Article continues below infographic.)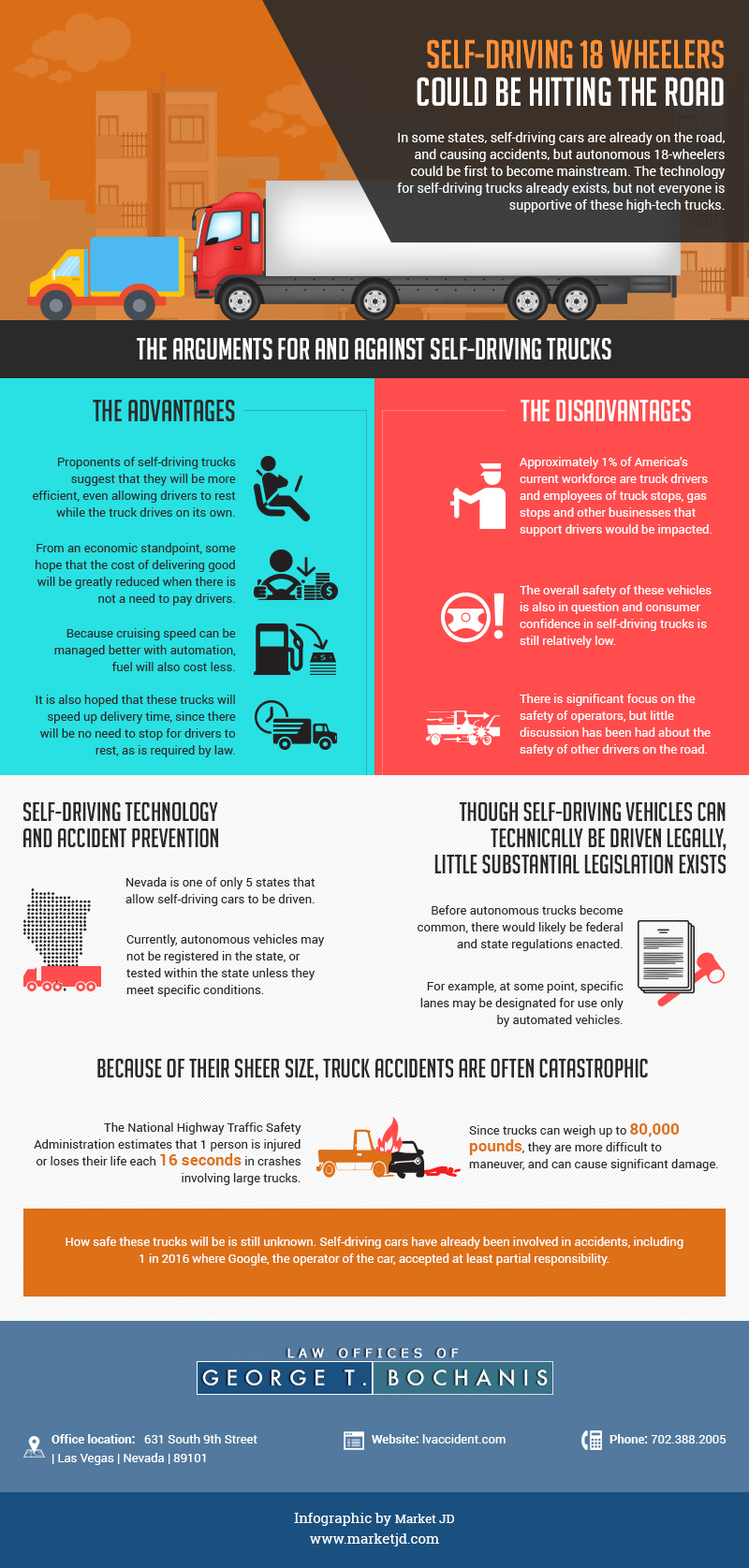 The Arguments for and Against Self-Driving Trucks
Proponents of self-driving trucks suggest that they will be more efficient, even allowing drivers to rest while the truck drives on its own. From an economic standpoint, some hope that the cost of delivering good will be greatly reduced when there is not a need to pay drivers. Because cruising speed can be managed better with automation, fuel will also cost less. It is also hoped that these trucks will speed up delivery time, since there will be no need to stop for drivers to rest, as is required by law.
One obvious objection stems from the damage that it would cause when a large force of drivers is reduced. Approximately 1% of America's current workforce are truck drivers and employees of truck stops, gas stops and other businesses that support drivers would also be impacted. The overall safety of these vehicles is also in question and consumer confidence in self-driving trucks is still relatively low. There is significant focus on the safety of operators, but little discussion has been had about the safety of other drivers on the road.
Self-Driving Technology and Accident Prevention
Nevada is one of only five states that allow self-driving cars to be driven. Currently, autonomous vehicles may not be registered in the state, or tested within the state unless they meet specific conditions.
Though self-driving vehicles can technically be driven legally, little substantial legislation exists. Before autonomous trucks become common, there would likely be federal and state regulations enacted. For example, at some point, specific lanes may be designated for use only by automated vehicles.
Because of their sheer size, truck accidents are often catastrophic. The National Highway Traffic Safety Administration estimates that one person is injured or loses their life each 16 seconds in crashes involving large trucks. Since trucks can weigh up to 80,000 pounds, they are more difficult to maneuver, and can cause significant damage.
How safe these trucks will be is still unknown. Self-driving cars have already been involved in accidents, including one in 2016 where Google, the operator of the car, accepted at least partial responsibility.