In the U.S., drowning is the second-leading cause of death in children from one to 14 years of age. Las Vegas summer heat sends thousands of guests to hotel swimming pools each day. For children, overcrowded pools and reduced visibility pose increased risks for swimming pool accidents and serious injuries. Hotel pool injuries and fatalities require legal advice from a hotel injury lawyer in Las Vegas who knows Nevada pool safety regulations.
(Article continues below Infographic)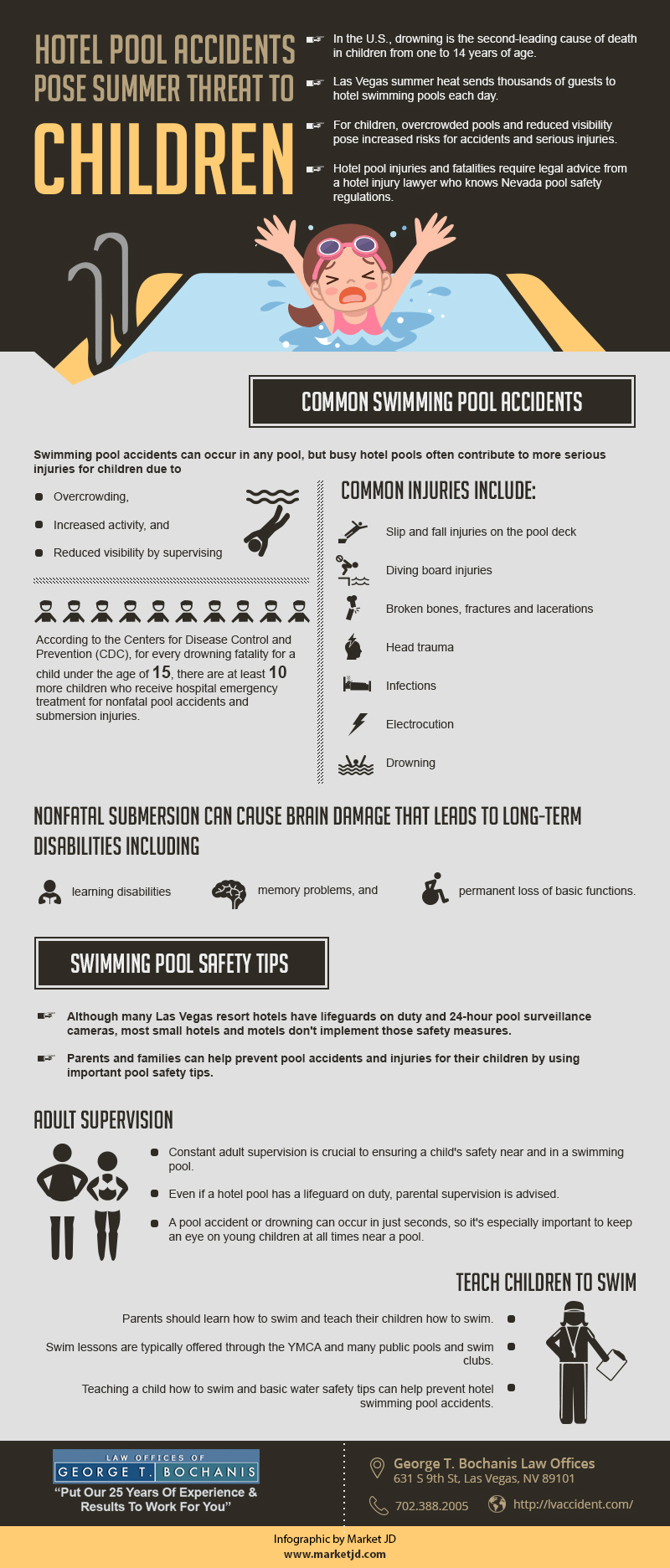 Common Swimming Pool Accidents
Swimming pool accidents can occur in any pool, but busy hotel pools often contribute to more serious injuries for children due to overcrowding, increased activity, and reduced visibility by supervising adults. Common injuries include:
Slip and fall injuries on the pool deck
Diving board injuries
Broken bones, fractures and lacerations
Head trauma
Infections
Electrocution
Drowning
According to the Centers for Disease Control and Prevention (CDC), for every drowning fatality for a child under the age of 15, there are at least 10 more children who receive hospital emergency treatment for nonfatal pool accidents and submersion injuries. Nonfatal submersion can cause brain damage that leads to long-term disabilities including learning disabilities, memory problems, and permanent loss of basic functions. With hotel swimming pool fatalities, a hotel injury lawyer in Las Vegas may be necessary for negligence issues related to hotel accidents and injuries.
Swimming Pool Safety Tips
Although many Las Vegas resort hotels have lifeguards on duty and 24-hour pool surveillance cameras, most small hotels and motels don't implement those safety measures. Parents and families can help prevent pool accidents and injuries for their children by using important pool safety tips.
Adult Supervision
Constant adult supervision is crucial to ensuring a child's safety near and in a swimming pool. Even if a hotel pool has a lifeguard on duty, parental supervision is advised. A pool accident or drowning can occur in just seconds, so it's especially important to keep an eye on young children at all times near a pool.
Teach Children to Swim
Parents should learn how to swim and teach their children how to swim. Swim lessons are typically offered through the YMCA and many public pools and swim clubs. Teaching a child how to swim, and basic water safety tips, can help prevent hotel swimming pool accidents that may require a personal injury lawyer in Las Vegas to handle personal injury claims.